Best Automatic Dog Ball Launchers in 2023 For Your Dog's Non Stop Ball Fun (Without Exhausting You!)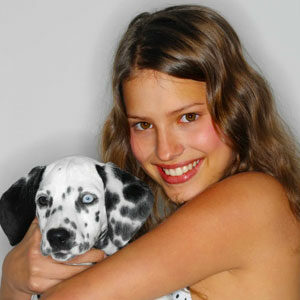 Emily Johnson
Updated: Sep 30th, 2023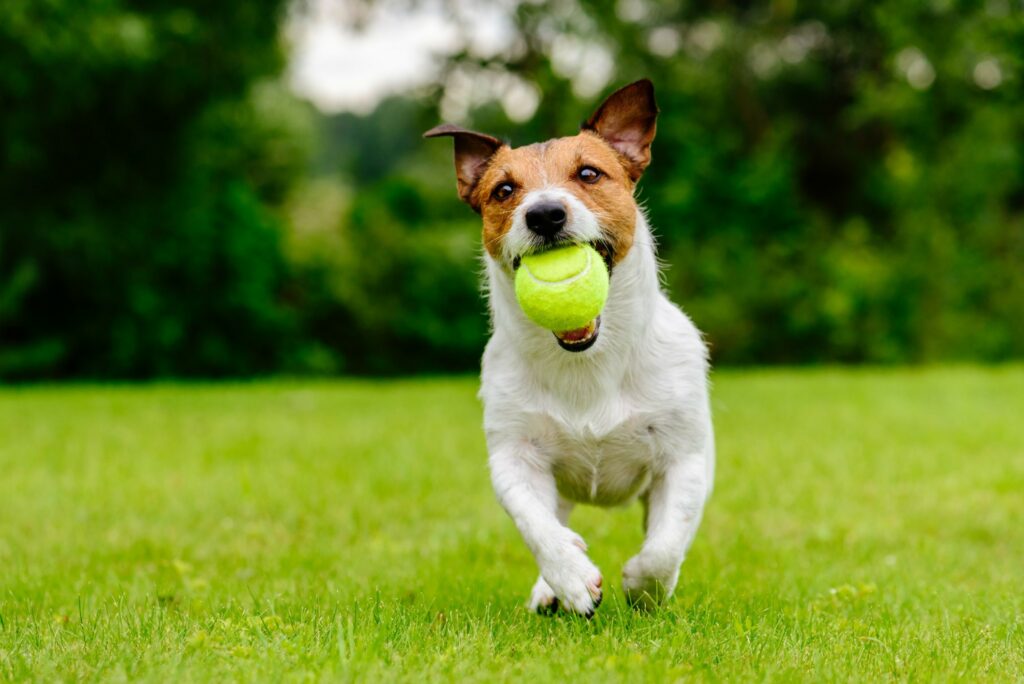 Dog's love to play with tennis balls! Once you say "Fetch!" they immediately scamper towards you, excited to start playtime. 
Throwing ball for an hour straight can be exhausting! Thus, we're so happy automatic dog ball launchers were created. They make ball fun easy — dogs can enjoy chasing balls endlessly while you sit back, relax, and have fun, too. 
With all the dog ball throw machines available in the market, it's hard to point out which one is really worth that money. 
In this review, we're going to feature the top three automatic dog ball throwers that won the approval of dog owners and pet care experts! 
How We Decided
To help us pick out the 5-star dog ball launchers in the market, we asked dog owners and pet care experts to join our review team. 
During the review, we specifically looked for the following qualities: 
Can Throw Balls for Hours
We looked for automatic ball dispensers for dogs that are capable of propelling balls for a long period of time. We know that dogs love to play ball for hours – so we wanted to make sure we found an automatic device that can stand for the job. 
Makes It Possible for Dogs to Play on Their Own
The machines we chose are simple enough to enable dogs to operate the dog ball launcher on their own. Of course, we still recommend owner supervision, but we made sure that you won't be the one to continuously maneauver the machine. 
Has Adjustable Throwing Distance
The machines we included here comes with settings that allow you to adjust the propelling distance of the ball. 
Easy to Use Features
We chose to included machines that has simple operations that enables your dog to play immediately after turning on the device. 
Safe Design
Dogs are special and we know you love them, so we made sure we only added safe and risk-free machines here. 
Out of all the automatic ball dispensers for dogs that we reviewed, these are the three products that stood out. 
If you're looking for an automatic ball launcher that can throw balls on repeat for more than an hour, we recommend the BumbBub. 
The BumbBub is heavy-duty. The ABS plastic material used to make it is guaranteed durable. The motor consumes low power which prevents instant overheating. 
The design of the BumbBub is also safe for your pets. The hole where dogs can place balls is wide which minimizes choking risks. Although the propelling power can throw up to 10 feet, 20 feet, and 30 feet, the BumbBub's force isn't going to hurt your pets should they be hit by balls. 
We love the easy-to-use feature which allows dogs to play with this machine without requiring you to join. Once the ball is inside the hole, the machine automatically prepares them for launching. After ten seconds, the machine immediately throws out the ball. 
The BumbBub comes with three tennis balls which help you cut the waiting time that could affect the excitement of your active dog. 
This machine is lightweight and convenient to carry anywhere. 
While at home, you can use its plug-in outlet so you can electricity to make it work. If you're outdoors and electric outlets are unavailable, you can use 6 C batteries to power up the BumbBub for up to one hour. 
The review team rates this as the best dog ball launcher for puppies and adult dogs!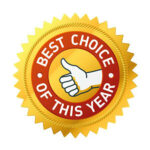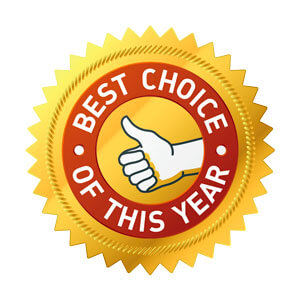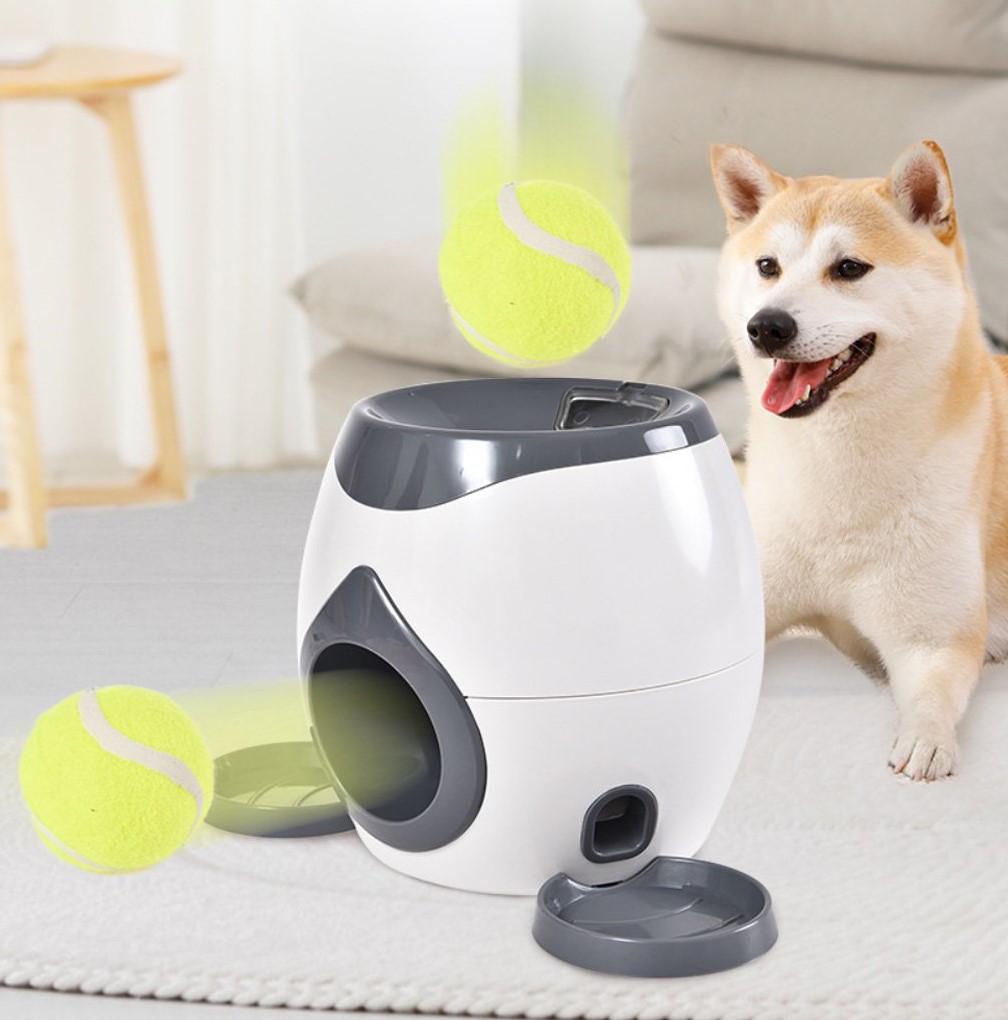 If you have a dog that gets stimulated by treats, we recommend the MunchnPlay automatic dog ball launcher with a treat dispenser. 
Treats come out every time a ball goes out of the machine – it's like your dog will get a treat for playing and exercising. 
We were told that the MunchnPlay was designed to help dogs eat in a slow, healthy way instead of just munching big batches of dog treats without control. 
The treat dispenser releases a controlled amount of treats, which you can set. 
The material used for MunchnPlay is 100% non-toxic, so it's safe to put treats there. After-play cleaning is also made easy. 
The overall design of the MunchnPlay comes with the traditional automatic dog ball launcher style – wide hole for the balls, and simple operations. 
Great for pet owners who are training their dogs to love exercise and eating properly.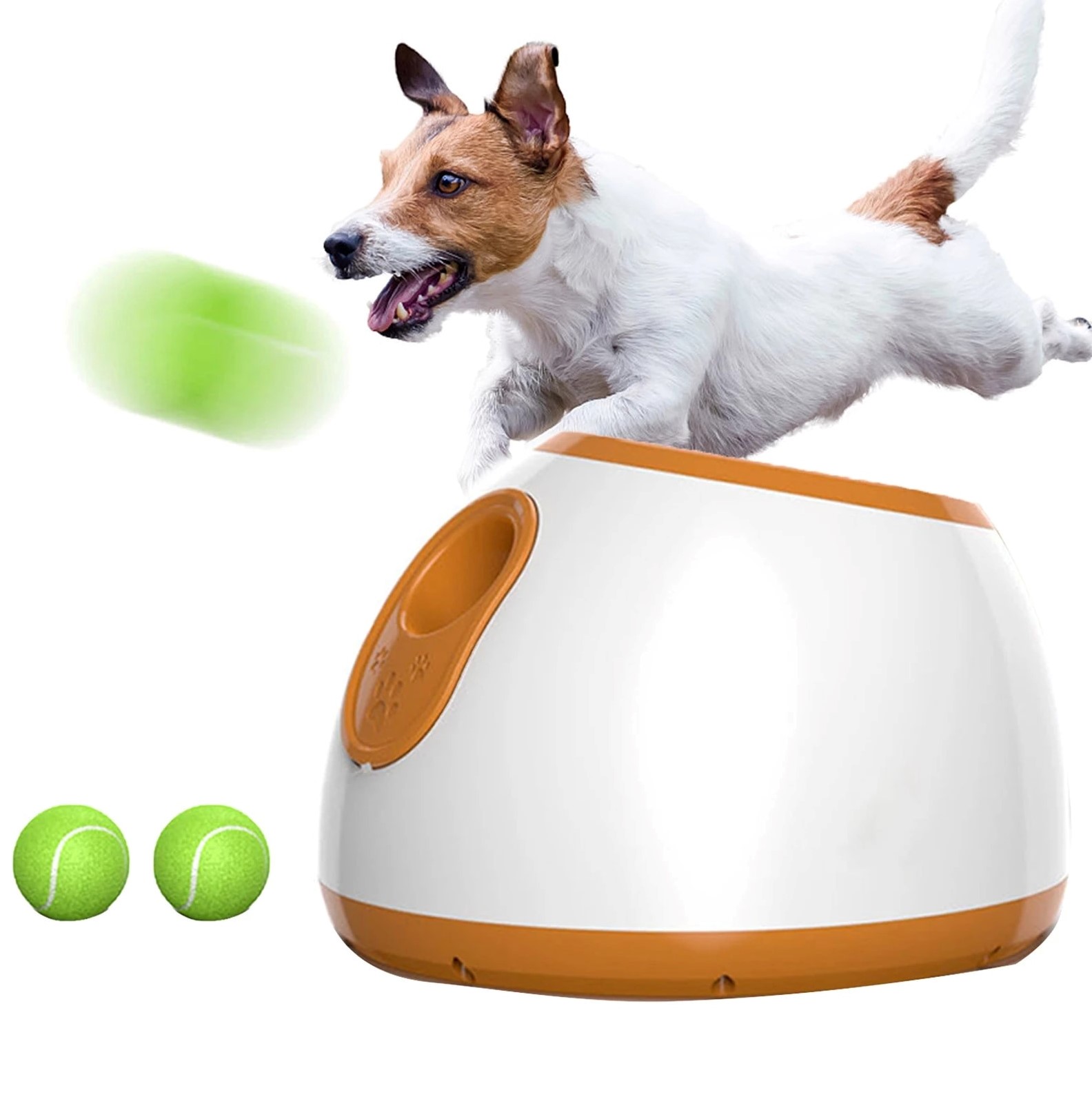 If your dog loves catching balls that roll down at a far distance, we recommend the PuppoThrow. 
This easy-to-use machine can throw balls up to 30 feet! 
We love how this is designed to make it quick and convenient for dogs to manage their ball game time. 
Just plug in the PuppoThrow to a power source and the machine will work continuously even when you have to temporarily step out of the room. 
The hole is big enough making it extra easy for your dogs to put the balls back in. 
The safety features of the PuppoThrow is remarkable. The force of the throw won't cause hurt, and the machine doesn't come with choking or electrocution hazards. 
The PuppoThrow also comes with three tennis balls so the machine can throw balls on loop endlessly without having to deal with long waiting time. 
If you bring this outdoors without an electric power source, you can insert six C batteries to power the machine for an hour. 
Play is a crucial part of your pet's life as it teaches mobility, and increases your beloved dog's IQ. Help your dogs move and make them discover the fun benefits of play with a reliable automatic ball launcher. 
Check out our recommendations above for the best dog ball launchers to get. Actual dog owners and pet care experts can't get enough of them!