The Best Dog Stairs In 2022, Ranked By The Pet Experts!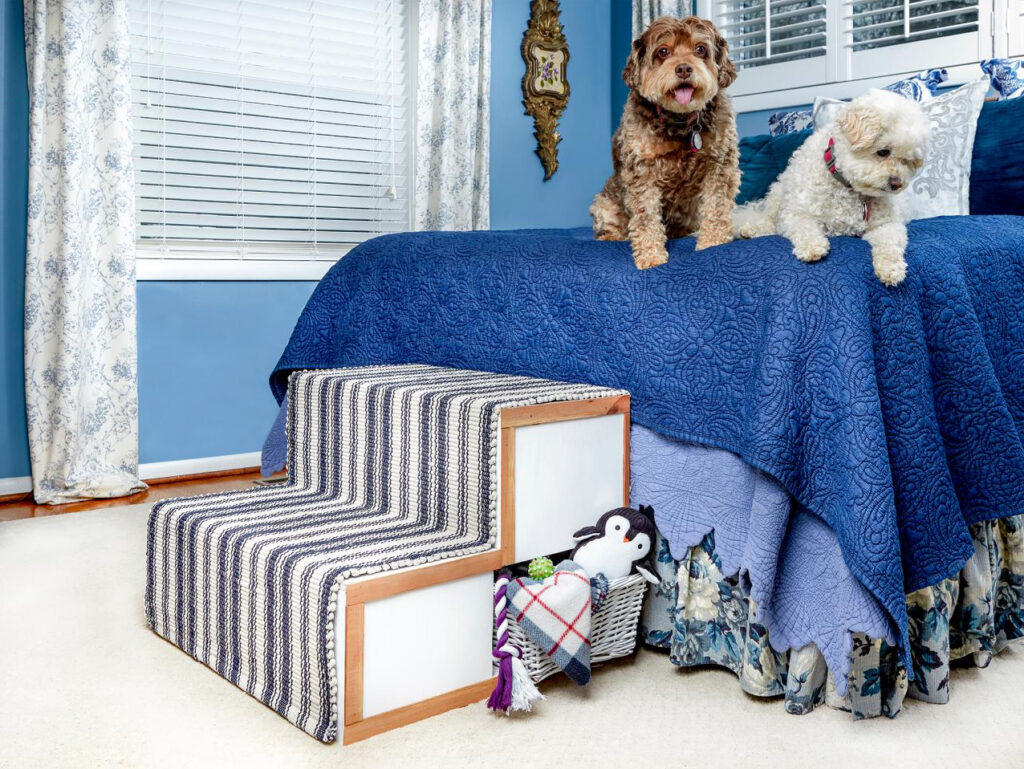 It's a fact that dogs simply love to snuggle with their owners. With their pack mentality and constant need for attention and affection, could you resist a cozy cuddle with your furbaby particularly when you've had a bad day? Still, some pups may find it hard to actually get to you in the first place, as their legs might be too short to climb up your couch. All dogs also inevitably age, and may experience mobility issues that hinder them from being their usual selves. Luckily, the love they have for us never goes away, which is why if you want to make it easier for them to reach you, or you want to make it safer while they run and play around your house, you might want to consider getting them a set of quality dog stairs.
Today, dog stairs are becoming a more common piece of pet furniture to help pooches (or kitties) to easily reach where they want to go. But before you purchase the first set of dog stairs you see, do remember that these come in a variety of heights and widths, with some being more appropriate for travel, while others are more suitable for beds and couches. Want to know the best dog stairs to get for your furbaby this 2022? Check out our top picks as selected by our in-house pet experts! 
HOW WE CHOSE THE BEST DOG STAIRS (AND WHAT YOU SHOULD REMEMBER)
Height:

We chose which dog stairs that can reach a wider range of heights, and can be easily adjusted according to the size of your breed.
Width:

We also picked out dog stairs that are designed with wider steps, so more breeds can climb them.
Material:

We made sure that each of the dog stairs we picked keeps them comfy and safe from slipping, and is sturdy enough so it won't wobble.

Other Unique Features:

Some dog stairs are multifunctional, and come with compartments to keep your pet's things, or can be latched onto your car's tailgate.
Now, check out what our pet experts found!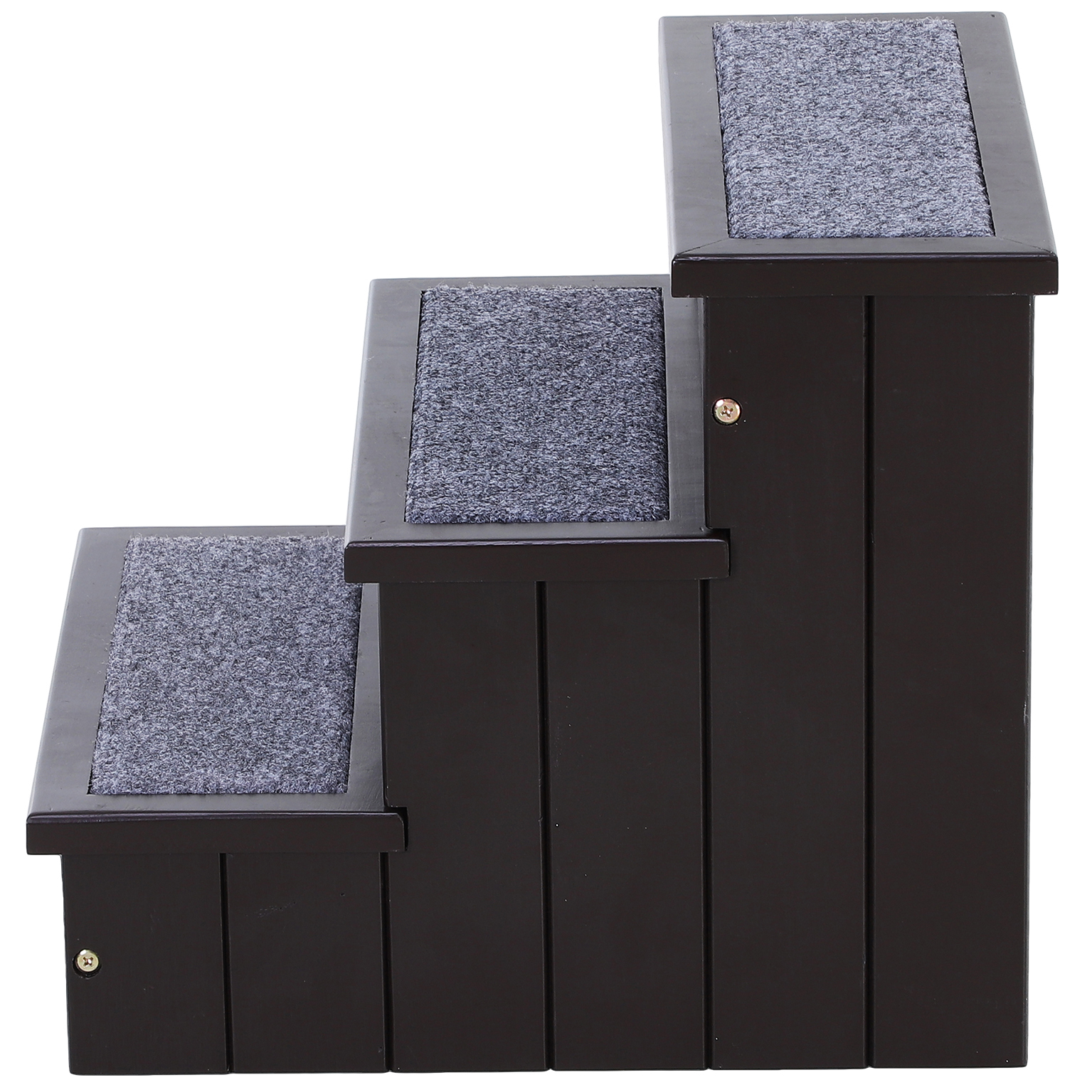 Whether you've got a dog you've had for years and now, they're in need of greater assistance while climbing up, or if you've just rescued a senior pooch and want to make their furever home more comfortable, our experts have found the HampshireHound Premium Dog Stairs to be the perfect choice. Not only does it give off elegant country home vibes with its fashionable pine wood aesthetics, it's also made to level up your dog's wellbeing. 
How so? Upon review, our experts found that these stairs are actually fitted with non-slip carpets, helping any dog (no matter if they're elderly, injured, or disabled) to feel secure as they take every step.
However, we wouldn't recommend having a Saint Bernard or Great Dane to climb these stairs though, as they can only support up to 65lbs of bodyweight. A lot better if you've got a chihuahua or Pomeranian, that's for sure.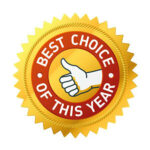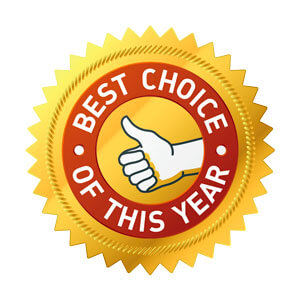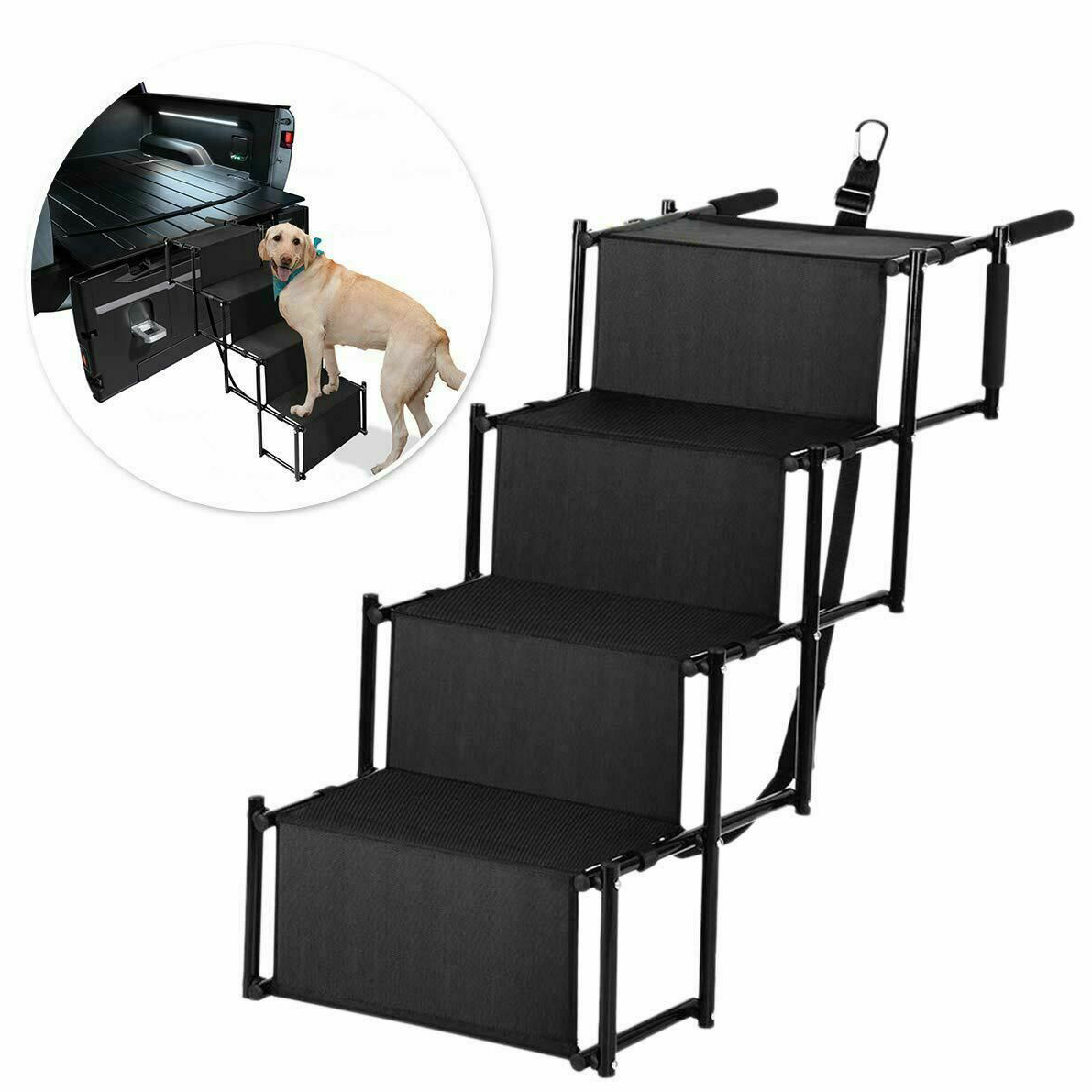 When you want a versatile set of dog stairs that you can bring with you while travelling, as well as indoors for everyday use beside beds and sofas, you can rely on the HappyPaws Folding Dog Stairs to get the job done. For instance, these are easy to pack. Your arms won't get tired when you need to bring them in and out of the house, as they only weigh 10lbs and are easily foldable thanks to their accordion design which lets you adjust them up to a whopping 60 inches high.
What's more, when you do have to go on a roadtrip, and you want to bring your beloved pup with you, you'll find it easy for them to cooperate and get up your van or truck, as these stairs come with a carabiner which you can latch onto your tailgate to help them climb up. And – when it's a doggy date of multiple dogs together, the HappyPaws Folding Dog Stairs has got you covered. Don't let its lightweight material fool you, as it's durable enough to handle the bodyweight of small to large dogs up to 100lbs. Of course, it's also crucial to note the anti-slipping mechanisms of these stairs too. With their rubber grips at the bottom, these steps won't skid away from your car while your dog is climbing them.
Thanks to their enhanced safety, easy foldability, and durability in handling dogs of all sizes, our experts have ranked the HappyPaws Folding Dog Stairs as their best selection of 2022!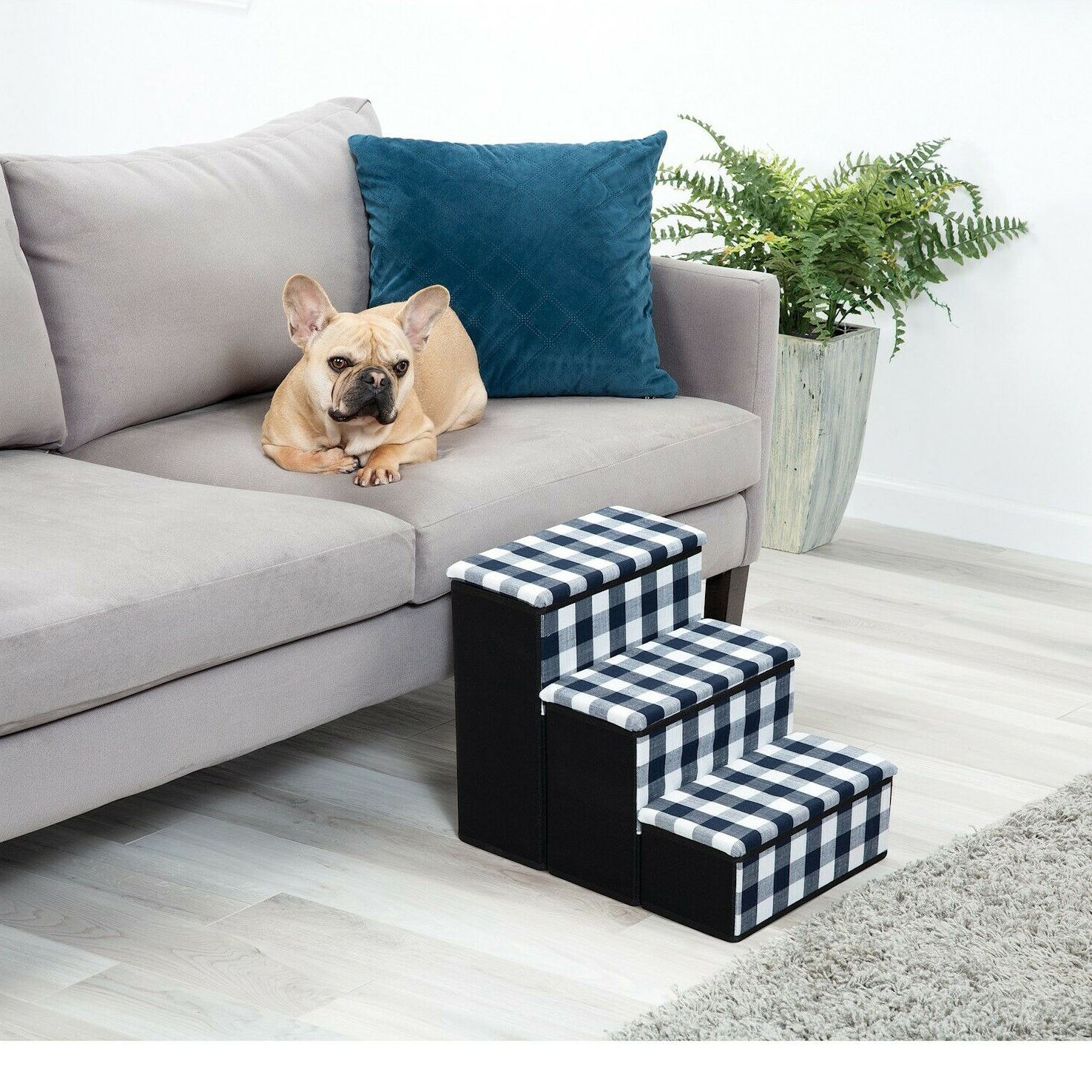 You may (or may not) lack in space, but you can never lack in style when you and your pup have the Curio Case Upholstered Dog Stairs. From first glance, one can immediately notice its chic blue design that can add a touch of classic elegance to any interior.
Yet more than its aesthetics, pet owners will be pleased to know that it's made of CertiPUR-US Certified Foam, guaranteeing lifetime durability, and in turn, MORE hugs and snuggles from your pets no matter what their age. Now that's definitely a perk any animal lover would want to have!
Still, what sets the Curio Case Upholstered Dog Stairs apart is that it's built exactly for the needs of owners who live in smaller apartments or condos. For one, it's easy to assemble, plus, you'll also find that they function as compartments for your dog's things too. Gone are the days of stepping on chew toys because you haven't got any space left to put them into. But as the Curio Case Upholstered Dog Stairs is built for homes lacking in space, this also makes it less suitable for bigger dogs too, though we're still all praises for its wide and deep steps that can provide more stability to your little pups while they climb.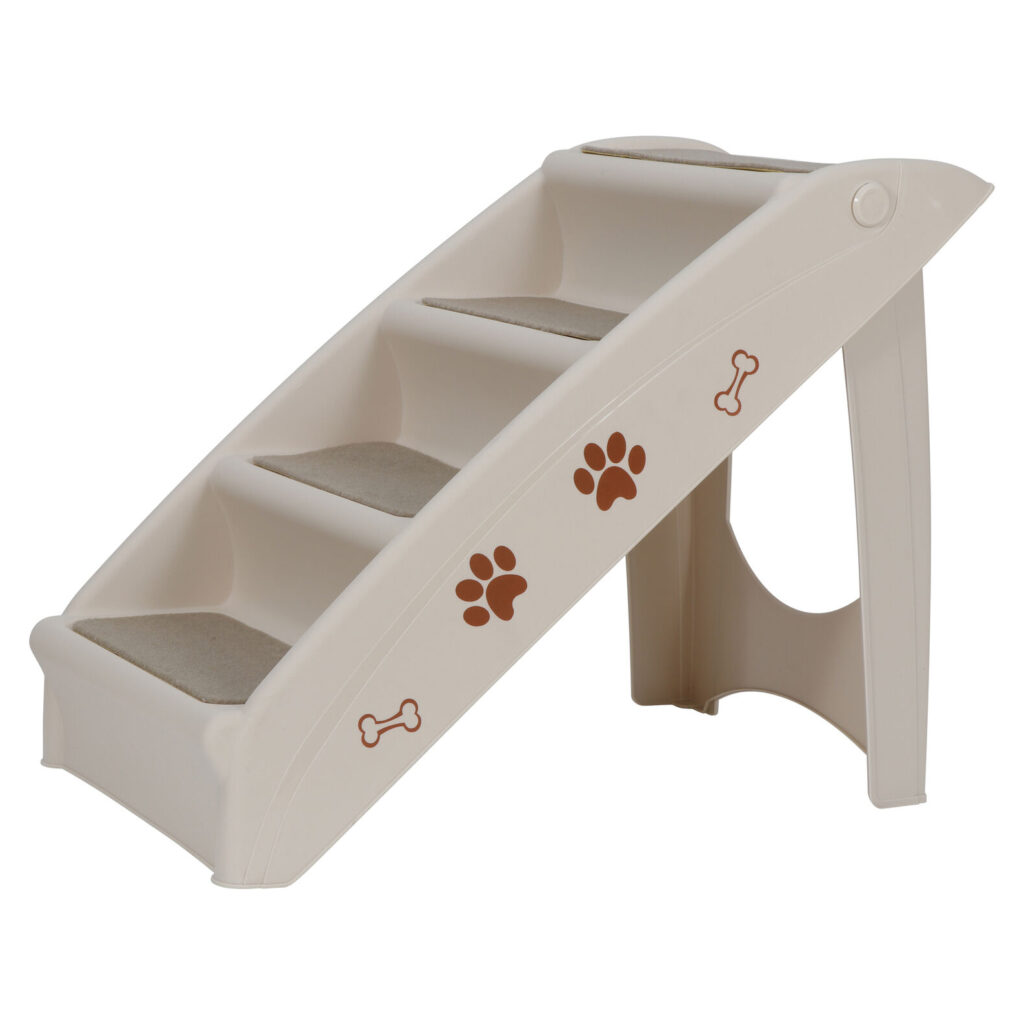 The makers of the PlayHauz Foldable Dog Stairs have definitely built these steps for the owners who love watching TV, or simply lazing around with their precious pups. They won't have to miss out on these priceless everyday moments any longer, as they're particularly designed to be beside beds, mattresses, and sofas. Just fold them out, and you'll see how your dog who's long been looking forward to snuggle with you can now do so with greater ease. For one, our experts love its design with siderails and rubber grips, helping avoid skidding or falling even if they're placed on slippery tiles. Your dog won't struggle any longer, while they try to reach their favorite spot on the couch.
Plus, they're built to last too with their high-density PP material. These stairs will certainly last you more than a couple of years, so when you want to give your pooch a younger, more rambunctious companion, they'll be able to climb up these steps too!
Pet owners today rely on dog stairs to help their precious furbabies move around the house – or up their cars – more easily without wobbling or slipping. But when looking for the right set of dog stairs for your pup, remember to check if they're built for the indoors and outdoors, as well as if they're made of quality, non-slip materials that can last your pet for years. 
Think your dog needs their own set of stairs? Choose from our expert-reviewed selection of the best dog stairs in 2022: shop now!